The Washington Recorder Society (WRS) began in 1958 when George Payne, a resident of Garrett Park, Md., founded the organization. After six years as an independent recorder society, WRS became an official chapter of the American Recorder Society in 1963. Payne continued to serve as president into the mid-1980s.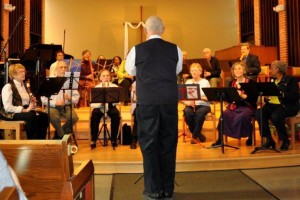 Since 1963, WRS has remained an active and vibrant chapter of the American Recorder Society. Today, WRS has approximately 50 members and meets twice a month to play music. Mini-concerts are held monthly prior to the meeting on the third Monday of the month. WRS has sponsored many musical workshops and in 2014 hosted legendary teacher and performer Shelley Gruskin's 40th workshop with WRS. Other workshop leaders have included Gwyn Roberts, Tina Chancey and Roger Morris.
WRS periodically sells used recorders and early music. The WRS music library contains more than a thousand pieces of music from the Middle Ages to the present, many of them in score. WRS uses this music at its meetings; members can also borrow the music to play in their own groups or individually.
WRS hosts an annual Spring Recital and has sponsored several national recorder music contests, the most recent in 2013 to celebrate our 40th anniversary as a chapter of the American Recorder Society.
For more a decade, WRS has been meeting at Cedar Lane Unitarian Universalist Church in Bethesda, Maryland. Some workshops and performances also are held at other venues.