New members and visitors to the Washington Recorder Society are always welcome. Your membership helps support the organization and enables us to host playing sessions twice a month, plus special events such as our annual holiday party and spring recital.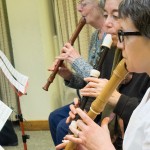 Members also receive our newsletter, WRS Notes, and are offered the opportunity to participate in two all-day workshops throughout the year (at an additional fee) with recorder professionals.
When you sign up for membership in the Washington Recorder Society, you also are offered the opportunity to join the American Recorder Society, if you wish.
To join WRS or renew your membership, please click on the link below:
Mail along with your check to the WRS Treasurer:
Brie Salzman
3412 Beret Lane
Silver Spring, MD 20906